Increase Comfort with Phoenix Patio Shades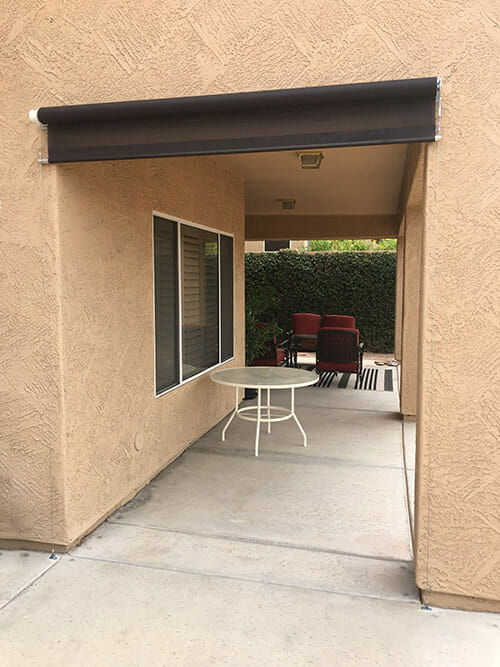 In Phoenix, Shade My Home offers retractable patio shades and patio screens for your home. Because of the sweltering Arizona heat, Phoenix homeowners are turning to patio shade options to make their outdoor comfort a priority. Patio shades add an additional layer of sun protection without sacrificing the beautiful views. Our shade options provide additional daytime privacy for your patio. Patio Shades reduce the visibility from the outside while still allowing for visibility from the inside.
Some great benefits of Patio Shades are:
Increase energy efficiency
Block up to 94% of heat and glare
Deflect harmful UV rays and protect your furniture
Control how much sunlight will be let in at any given time
Options for Quality Retractable Awnings and Patio Shades
First of all, our exterior roll-up solar screens come in manual or motorized options. Furthermore, we have many options and colors to chose from, so you can find the perfect match for your home. Much like insect screens, patio shades let you enjoy protection from insects and other pests. As a result of this protection, you can enjoy outdoor dining with your family in comfort. In Phoenix, retractable awnings and patio shades are the perfect solution for your outdoor comfort needs.
Dependable Patio Shades in Phoenix
As a result of our high-quality retractable awnings and patio shades, your outdoors will become more comfortable. Finally, you will be able to use every part of your home without concern for the hot Phoenix sun and nuisance insects. Most noteworthy, you can trust our knowledge of local conditions and depend on the reliable protection of our shades and awnings.