Phoenix's Trusted Choice for Shade Screens
In Phoenix, we're always looking for ways to beat the heat and reduce summer cooling costs. Many homeowners have turned to window shade screens in Phoenix, AZ due to their return-on-investment. Utility savings add up quick and you'll almost always see an impact when you install shade screens on your home.
Some of the benefits of installing window shade screens include:
Reduce air conditioning costs by 35% to 60%.
Instantly reduce solar heat gain by 15 to 30 degrees!
Shade screens usually pay for themselves within 2-3 years.
Improve 20% — the thermal performance of dual pane windows for wintertime savings Dollar for Dollar
Remarkable Shade Screen Installation in Phoenix
Unlike window film or tint, window shade screens and solar screens are installed on the exterior of your home. Our shade screens can block the heat and ultra-violet (UV) rays before they hit your window, therefore acting as a barrier. More importantly, as a result of this barrier, your heating and cooling system will function better, less often, and subsequently, keep your home at a comfortable temperature
Quality Phoenix Shade Screen Services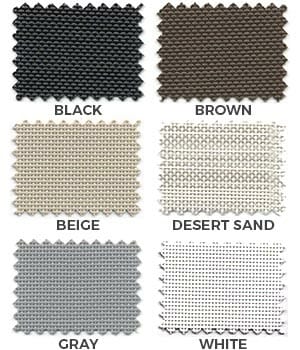 Our custom-built shade screens are manufactured locally, here in Phoenix, AZ. We offer quality shade screen fabric from brands such as Textilene by Twitchell and Suntex by Phifer. Most noteworthy, the fabric is a heavy-duty, vinyl-coated polyester, which is uniquely woven into a mesh sheet.
We offer shade screen fabric in a variety of colors:
Black
Brown
White
Gray
Beige
Desert Sand

Window Shade Screens Reduce Energy Costs

The primary purpose of solar window screens, or shade screens, is to reduce heat gain in the summer and certainly reduce interior heat loss in the winter. Shade Screens cool the home by reflecting, absorbing, and disbursing large amounts of solar heat and glare before they have a chance to reach and penetrate the glass in your windows and doors. As a result, it can reduce the temperature of the room in the daylight from 10 to 15 degrees.

Quick Phoenix Shade Screen Fact:

While installing a more efficient air conditioner or ceiling fans can help reduce the cost of temperature adjustment, the best thing you can do to stop the heat from entering your home in the first place.